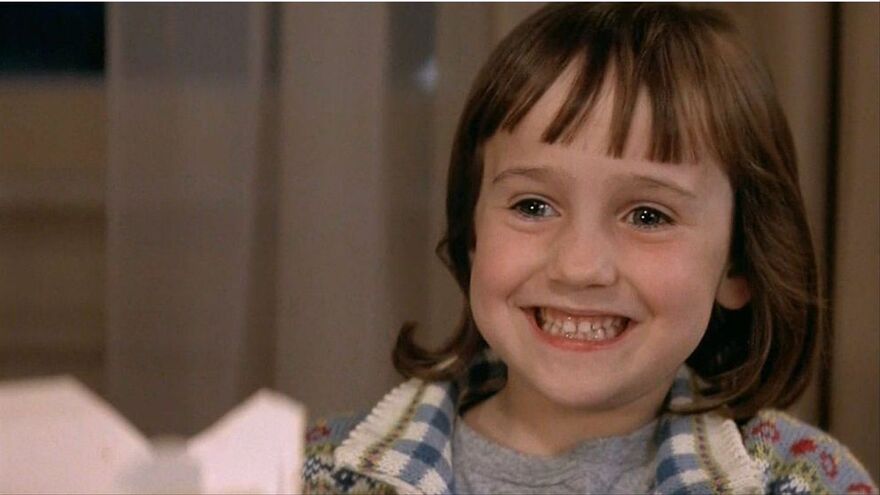 Natalie Hillard is portrayed by Mara Wilson. She is the youngest daughter of Daniel and Miranda Hillard. She has two older siblings: the eldest being her sister, Lydia and then close in age to Lydia is her older brother Chris.
Personality
Edit
She is five years old with an imagination.
After Miranda is temporarily granted full custody, Natalie, like her older siblings, showed her anger towards her in banning their father out of their lives. When Mrs. Doubtfire comes into their lives, Natalie kept her distance from her, but became close when she understands how much Natalie, Chris and Lydia miss their father. As she reads to Natalie her favorite stories while voicing the characters, she begins to suspect Mrs. Doubtfire is her father, Daniel, due to their similar voice ranges. However, she is happy that he is back in her life that she does not say anything to Miranda and her older siblings(proving Daniel's earlier suspicion with her telling on him to Miranda wrong).
At Miranda's birthday dinner celebration and out of concern of her father's exposure, Natalie asks her mother to take her to the bathroom. As they were heading there, they catch Mrs. Doubtfire going into the wrong bathroom, but Miranda excuses it as a mistake when she explains that she thought it was the women's restroom. Later on after Miranda saw who her beloved housekeeper is, she takes Daniel to court. Miranda is granted full custody of the children, much to Natalie, Chris and Lydia's dismay. Later on, Miranda tells her children that Mrs. Doubtfire isn't real, but Natalie and her siblings aren't in the mood. Natalie and the others are delighted to see Daniel hosting his own show as Mrs. Doubtfire in "Euphegenia's House", which has become a hit.
Now happy to have her father back as a central part of their lives, Daniel, Natalie, Chris and Lydia head out for the day.